Kukmin Daily Newsletter
Issue 8
July 4, 2019
Seoul, Korea
Greetings from Seoul!
The Panmunjom meeting of the three leaders of South Korea, North Korea and the United States this past weekend came as a surprise and was welcomed by the Korean church. We sincerely hope this becomes the defining step toward peace on the Korean peninsula, particularly after the halt since the Hanoi Summit held in February. In this issue, we feature a story about Missionary Harriet E. Gibson. We also include excerpts from other news articles especially liked by our Korean readers.
Missionary Harriet Gibson: Medical missionary, educator, writer and translator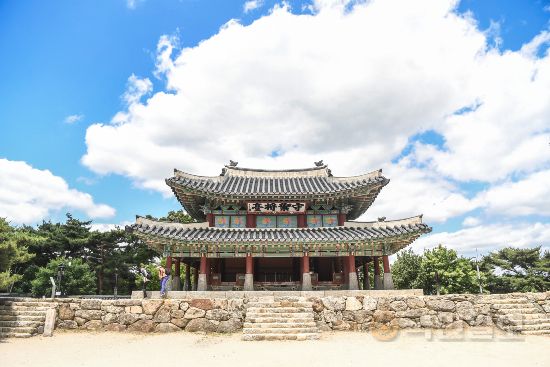 Namhansanseong Fortress Tower (photo above) is the only command post remaining from the original four in the fortress constructed by King Injo in 1624. Namhansanseong, with its humiliating history of the 1636 Manchu war, would seem unrelated to Korean Protestant history, but for early missionaries to Korea it was a place for rest and recovery from endemic diseases. Among those who sought respite there was John W. Heron (惠論, 1856~1890), director of Jejungwon and the husband of Harriet E. Gibson (1860~1908, photo below).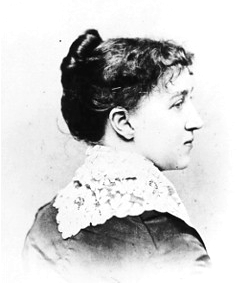 In June 1885, Gibson and Heron arrived in Joseon (Korea) and began their medical ministry at Jejungwon. Gibson, known as "Heron's wife," also worked actively in women's mission and education. In the summer of 1890, Heron died of dysentery. Gibson remarried in 1892, to James S. Gale (奇一, 1863~1937), thus becoming "Gale's wife." When Gibson died in 1908, Gale remarried in 1910, to yet another "Gale's wife." In Korean church history, Harriet Gibson has remained both "Heron's wife" and "Gale's wife," indicating a paucity of research. Her misrepresentation as merely a helper of male missionaries has obscured Gibson's true identity.
Gibson led a weekly Bible study group for women and educated them in the catechism. As a missionary of the Northern Presbyterian Church in the USA, she devoted herself to establishing a girls' school, but when her health worsened, she entrusted the students to Missionary Mary F. Scranton. Those students were the start of Ewha Hakdang (Ewha Womans University now), finally established by Scranton.
Gibson and Lillias H. Underwood (wife of H.G. Underwood) played a role in the medical treatment of Empress Myeongseong. Gibson's outstanding Korean language skills put her at the center of medical ministry for women, and gave her a place on the team that translated "The Pilgrim's Progress" into Korean. After becoming "Gale's wife," Gibson followed him to the mission site in Wonsan, Hamgyong-do. There she wrote "Women Working for the Gospel," reporting on the fruits of her women's ministry, and continued her ministry till 1895.
Korean church repaying Cheondogyo 100-year-old 3.1 Movement debt to Cheondogyo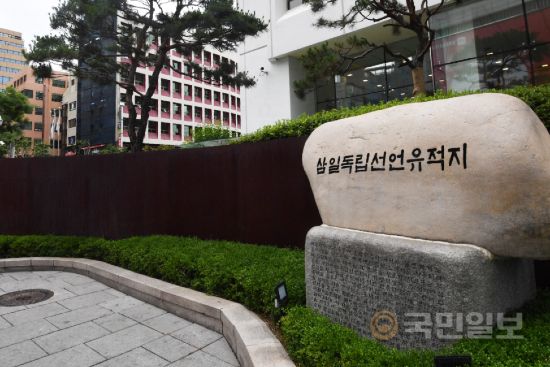 Ahead of the March 1 Independence Movement in 1919, Korean Protestant leader 'Namgang' Lee Seung-hun (1864~1930) and Cheondogyo member Choi Rin (1878~1958), agreed that their two churches would cooperate for the movement. On February 20 that year, Lee Seung-hun appealed to Choi Rin: "Each of (our Protestant) friends was to contribute a certain amount, but this has not worked out and the time is urgent, so if the Cheondogyo side can lend us 5,000 won, I think all will go well." Cheondogyo leader Sohn Byeong-hui quickly (1861~1922) withdrew 5,000 won from the church's building construction fund and gave it to the Protestants.
The patriots used the money, a huge amount in those days, for travel expenses, distribution of the March 1 Declaration, and support for families of prisoners arrested during the movement. Court records from the time show that 2,000 won from the loan went to Rev. Hyeon Sun, then in Shanghai rallying patriotic persons to form the ROK Provisional Government.
Under Japan's continuous harsh oppression, the loan was gradually forgotten. But now, 100 years later, it will be repaid in the form of a contribution toward the cost of a commemorative stone being planned by persons from the Protestant, Cheondogyo and Buddhist religions. The stone will be placed on the lawn of Taehwagwan, the restaurant where the Declaration of Independence was signed.(Photo above shows the stone marking the declaration place, standing in front of the Taehwa building.)
Lee Hee-ho's life: The way of the Word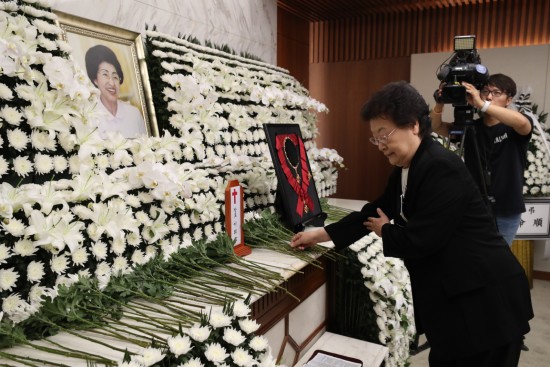 Lee Hee-ho, a sincere Christian and first-generation women's rights movement activist, passed away on June 10. She was 97. Before her marriage to late President Kim Dae-jung in 1962, she worked for four years from 1959 as secretary general of the Korea YWCA. She led the anti-concubinage movement, setting the stage for later revision of the Family Law, and opened a new horizon toward gender equality. Her strong support of leadership development for young women produced leaders such as Chang Sang (in photo, paying respects to Lee at the funeral parlor), who served as president of Ewha Womans University and currently Asia president of the World Council of Churches, and laid a firm foundation for the women's movement in Korea. Lee Hee-ho and President Kim, grounded in Christ's teachings, worked together faithfully for reconciliation and peaceful reunification of the Korean peninsula.
Alister McGrath: "Biblical truth translated into today's images and stories moves hearts"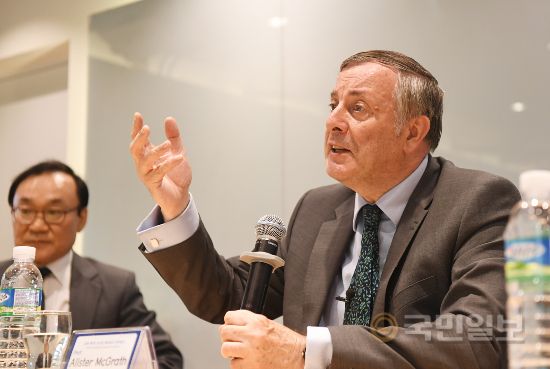 Dr. Alister McGrath of Oxford University visited Korea for the Jonathan Edwards Conference at Anyang Yullin Church on June 3, and the C.S. Lewis Conference at Seoul's Saemoonan Church on June 1. In an interview with Kukmin Daily, McGrath said, "Biblical truth needs to be translated to fit modern circumstances. In translating, you should unearth images and stories that fit the Korean situation, and they will move the hearts of Koreans." He commented, "In this postmodern era, people ask whether this (faith) really works. Believers need to show that their faith is actually a working belief system, not just words, by telling the story of how the Christian faith has brought changes for them."
In his C.S. Lewis lecture, titled "Engaging Reason and the Imagination: Reflections on the Importance of C.S. Lewis for Theology and Ministry," McGrath shared his own faith journey while reading C.S. Lewis. Noting that Lewis was a theological thinker who translated the Gospel through images and stories, he said this narrative method is still valid today. He recalled, "The defining reason for my walking away from atheism was that Christianity was purely intellectual. Atheism did not offer a persuasive vision and could not prove itself correct. It was not scientifically verifiable, but was merely a belief."
박여라 영문에디터 yap@kmib.co.kr