Kukmin Daily Newsletter
Issue 9
July 25, 2019
Seoul, Korea
Greetings from Seoul!
In this issue we report on the challenge posed to Korean seminaries by reduced student enrollment; and on new evangelical approaches, communicating the Gospel in diverse ways and places. The hot summer reminds us of the worsening global climate crisis. Though some say it may already be too late, we seek God's wisdom as we participate in efforts to alleviate the situation. Another concern of the Korean churches is heightened tensions caused by Japan's sudden trade restrictions on South Korea, a development that underlines once again the need for peace on the Korean peninsula. We ask our sisters and brothers to pray for better relations between the two countries.
Theological schools challenged by enrollment shortages
Last year, the theological colleges at 10 of the 40 member schools of the Korea Association of Accredited Theological Schools (KAATS) could not meet their admission quotas. The main cause of this sharp decline in recruitment is the shrinking school-age population. The Education Ministry predicts that the number of new university entrants in 2022 will be 410,960, and that there will be a further drop to 398,157 in 2023. The student shortage will lead to reduced income from tuition, and to cutbacks in government support. Normal school operations will inevitably be more difficult. Professor "A" of Honam Theological University and Seminary in Gwangju warned on July 23, "Considering our inability to recruit good students, the future of the Korean church is dark."
Seminaries are recruiting late-starters past age 40 (with an equal-opportunity admission system offering another chance for education), but Professor "B" at a seminary in Gyeonggi-do said leadership development will likely be difficult. Theological schools cannot solve the problem by themselves. Professor "C" of Busan Presbyterian University said, "Along with the smaller school population, the fall of social trust in pastors also is a factor in recruitment shortages." He expressed worry that "without special measures such as greatly downsizing schools or merging with nearby schools, theological universities will soon start closing their doors."
The General Assembly of the Presbyterian Church of Korea (PCK Tonghap) has seven theological universities. In 2003, a proposal was made to combine all the theological graduate schools into one, while maintaining the existing universities and special graduate schools, but this idea was abandoned due to strong resistance by the universities. Professor "D" of Methodist Theological University in Seoul said, "I think Korean theological universities, like U.S. schools, will soon have to make difficult decisions such as selling their campuses or moving…It's time to start discussing rational alternatives."
Fresh Expressions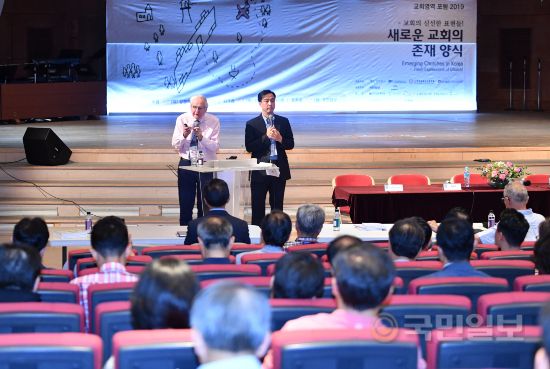 Churches worldwide are searching for new ways to communicate the Gospel. On July 2, the Korean churches dialogued with UK church representatives about "Fresh Expressions" at a forum held jointly by Kukmin Daily and Transform Korea, at Hallelujah Community Church in Seongnam, Gyeonggi-do. The Fresh Expressions (FX) movement has set a new wind blowing in the Anglican Church of the UK. At the forum, titled "Emerging Churches in Korea - Fresh Expressions of Church!", Rev. Canon Phil Potter, Archbishops' Missioner and Team Leader at Fresh Expressions, and Dr. Michael Moynagh (speaking on the left), FX's Director of network development and Consultant on theology and practice, introduced examples of FX and explained its necessity. 350 some participants, including ministers from large and small churches nationwide, shared their concerns about how to modify the church to fit the changed era, and how to do evangelism. Presently the Church of England has more than 2,000 FX organizations. "FX" refers to new, diverse forms of church that engage with people in cafes, libraries, bakeries and other non-church spots. Aside from church leaders, more than half of FX participants come from outside the church.
At a follow-up conversation with Korean church leaders involved in FX activities, it was agreed that to expand the movement, new dialogue on ecclesiology is needed in order for existing churches and FX movement to follow a mutually complementary path. Korean churches are showing great interest in FX. Rev. Hwang Seong-ju, who chairs the standing committee of Transform Korea, said, "The target of the FX movement is not current church members, but those who have left the church or have never attended it. So its ministry is not to replace existing churches but to supplement them. It concentrates on areas that the current church cannot reach. It means going where the evangelical targets are, and breathing together with them as we communicate the Gospel. From the perspective of the Gospel incarnation, I personally have found a good response."
Feeling the spiritual energy of hymns played on daegeum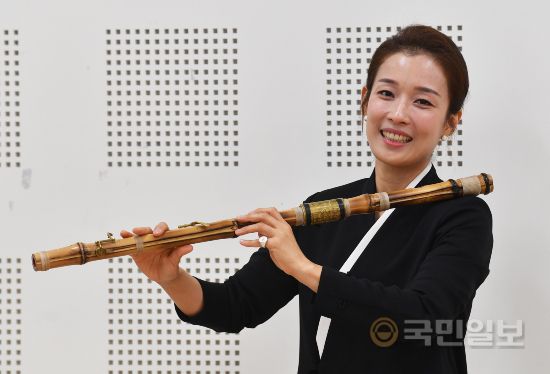 Park Gyeong-min plays hymns on her daegeum (Korean bamboo flute). Though hymns played on daegeum are not popular, they feel friendly because the sound of the flute resembles the sounds of nature. Park is head daegeum player in the National Theater of Korea Orchestra. Her recent album 'Hymn' shares the beauty of Korean traditional music. "My favorite is 'Were You There.' It reminds me of the ordinary women who waited by the tomb for Jesus' resurrection. Like their story, I'd like to include in my playing the images of ordinary people doing their best in their own places." She commented, "The daegeum, made of bamboo, has the power to surround and embrace us, like the sound of the wind…I hope people will feel the power emanating from the sound of the daegeum, and the spiritual energy given by the hymns."
CCC summer revival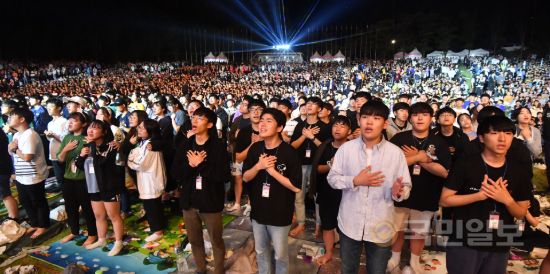 Korea Campus Crusade for Christ (CCC) held its 2019 National Summer Training Camp at Phoenix Park Resort in Pyeongchang, Gangwon-do. This year's theme was "Aim Divine," pointing to AD as the origin of Jesus' birth and the time of meeting the Lord and being born again. Some 10,000 college students took part. Following the camp, they were to depart on an evangelism tour, nicknamed "beggar pilgrimage," throughout the country.
Released missionary: "126 days in Philippines prison brought me closer to God"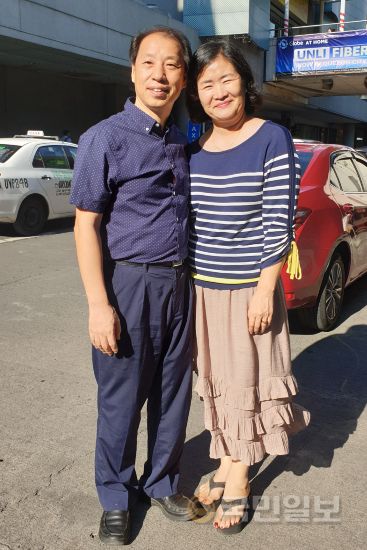 Missionary Baek Yeong-mo, after working nearly 20 years as a missionary in the Philippines, was imprisoned for 126 days on suspicion of weapons possession, but was finally released on bail last October. Kukmin Daily met him and his wife, Missionary Bae Sun-yeong, in downtown Manila this past June 24. With Baek out of the rundown correctional facility and back in everyday life, the couple looked much more cheerful and relaxed than before. His court trial is still under way. Baek said that in prison, while other inmates were suffering cruel death, he clung to Psalm 23:1, "The Lord is my shepherd, I shall not want." His ordeal connected him with many companions in Korea and the Philippines, from the doctor-lawyer acquaintance who gave him free legal help, to Christians in both countries, utter strangers and overseas believers, who prayed with one heart for his safe release. "I hope my experience will ring a few alarm bells in Philippine society," Baek said. "Please pray with me for the raising up in the Philippines of many Christian lawyers and leaders who fear the Lord and will work for the public good."
박여라 영문에디터 yap@kmib.co.kr