Kukmin Daily Newsletter
Issue 11
August 29, 2019
Seoul, Korea
Greetings from Seoul!
Summer is finally giving way to autumn. Over the summer, many church denominations have been sorting out and reviewing proposals for legislation, in preparation for their annual general assemblies. Also, in this centennial year of the March 1 Independence Movement and of the establishment of the provisional government in Shanghai, China, the churches have been revisiting history and making new discoveries about the past. Some of those are reflected in this newsletter, which we hope you will enjoy.
Mission team: "The people of Korea and Japan don't know each other"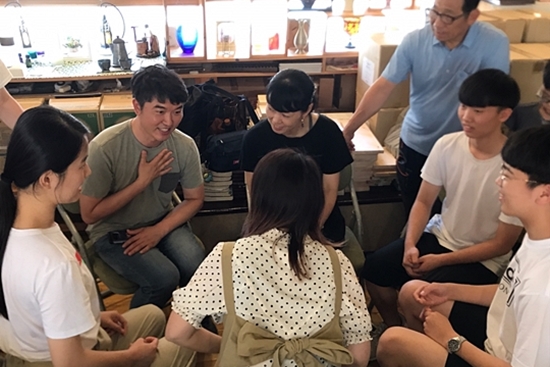 Despite the freeze in Korea-Japan relations, churches in the two countries are continuing their mutual exchanges through various programs. This past July 24~27, a team from Gaeryeong Church, composed of members ranging from elementary school age to deacons in their seventies, went on a short-term mission trip to Fukuoka. Hwang Seok-cheon, a missionary from the PCK Hapdong Global Mission Society who now serves Fukuoka Dongsam Church, joined the team during its visit. During his 22-year ministry in Japan, Hwang has tried to raise awareness about Korea through such activities as teaching Korean and making kimchi. The mission trip team held a "real life" Korean class and cooked Korean food for the local Korean language students. Gaeryeong Church's Rev. Park Tae-guk said, "As we talked about various topics, we found many unexpected gaps in historical understanding…I realized that we need to build mutual awareness about many things through this kind of exchange."
Missionary Kim Gwang-hyeon was dispatched by PCK Hapdong's Bundang Manna Church and Holy Seeds Church, and has served the Japanese community in a suburb of Tokyo since 12 years ago. This year he organized a summer vacation Bible school together with Nopeunddeut Ochanomizu Church of the Korean Christian Church in Japan. Unaffected by the war of nerves continuing between Korea and Japan, the Bible school drew enthusiastic responses from both parents and children. Though the missionaries are practicing "civilian diplomacy" during this time of troubled Korea-Japan relations, they express some worry. "Japanese citizens want peace and good relations with neighboring countries, particularly Korea," Kim said. "But these days the mass media are putting out negative images of Korea."
Memorial to Independence leader Choi Jae-hyeong in Ussuriysk, Russia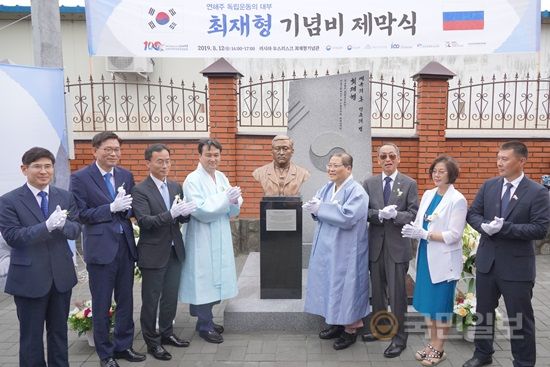 In preparation for next year's centennial commemoration of the death of Choi Jae-hyeong (1860∼1920), a memorial bust of the Independence leader was erected on August 12 (local time) at the Choi Jae-hyeong Memorial Building in Ussuriysk, located in the Primorsky Krai region of Russia. During the Japanese colonial period, Choi, known as "godfather of the independence movement" in Primorsky Krai, was the hidden supporter of An Jung-geun, who assassinated Ito Hirobumi. Born to a poor family, he moved with them to the Korean village of Jishinheo in Primorsky Krai when he was 10. The following year he became the first Korean student to enter a Russian school. He left home at a young age and went to work as a fisherman on a Russian merchant ship. The captain's wife had him baptized, and called him Pechka (Russian heater). He travelled around the world for six years on the merchant boat. At age 18, Choi began learning trade and handcrafts at a merchant company in Vladivostok. Later, he earned a fortune through his military supply business. He used his resources to support overseas Koreans and the Korean independence movement, and built 30 some schools in the Primorsky Krai region. In 1902 he was arrested and killed by Japanese soldiers. His place of burial is unknown. Choi's grandson Choi Valentin (82), who traveled from Moscow to attend the event, said, "Koryo persons cherish my grandfather's memory; when I say I'm his grandson, sometimes they are too moved to speak."
Bishops Council president suspended again
The Korean Methodist Church is a large denomination with 6,500 some churches. Back in 2004 it adopted a 4-year full-time Council of Bishops president system, a change from its 2-year part-time bishops' president system. The strengthened power and influence of the position has led to overheated elections for the post, and to a chain of litigations. Current Bishops President Rev. Jun Myung-ku (elected in November 2016) was suspended from duty for the second time on July 24. His first suspension, in April 2018, was successfully repealed, allowing him to return to the office in October that year. On August 20, KMC selected an acting president to lead the denomination until October next year. There is a consensus that the 4-year full-time system has to go. An amendment bill (for return to the 2-year part-time system) has already been introduced to the legislative assembly, ahead of its meeting this October.
World Christian youth join pilgrimage for peace on the Korean peninsula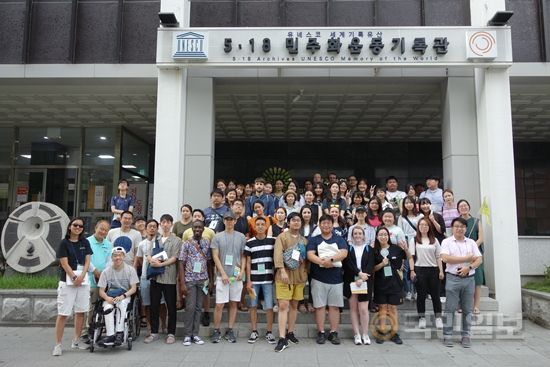 The Ecumenical Youth Council of Korea (EYCK), with support from the World Council of Churches (WCC) and the Reconciliation and Unification Committee of the National Council of Churches in Korea (NCCK), organized and led a Pilgrimage of Justice and Peace on the Korean Peninsula during August 6~11, with the theme "Walking with peace, reclaiming hope."
More than 40 Christian youth participants from 16 countries including Ghana, Taiwan, USA, Sweden, Japan, Jamaica and Australia, along with 40 some young Koreans, joined in the event. They traveled to Gwangju, to the site of a wartime massacre of civilians in Daejeon's Sannae Valley, to Nogunri Peace Park in Yeongdong, Chungbuk-do, and to the DMZ at Paju in Gyeonggi-do. On August 11, they participated in the joint August 15 worship service at Seoul Evangelical Church. The young people meditated on the meaning of peace and reconciliation for the world church, shared thoughts about the Korean peninsula as a starting point for world peace, and discussed ways to build solidarity toward peace in every country. EYCK General Secretary Rev. Nam Gi-pyeong (35), who led the pilgrimage, said, "I hope young people around the world will recognize the absolute need for unity in the work for peace and life together."
박여라 영문에디터 yap@kmib.co.kr