Kukmin Daily Newsletter
Issue 13
October 14, 2019
Seoul, Korea
Greetings from Seoul! This early autumn season, with its cool evening breezes and warm, sunny days, is a time to look back on the recent past and weigh its fruits. It has been a record year for typhoons: The most recent one, in early October, hit the southeastern region harshly, causing at least 10 deaths, many injuries, and extensive damage to land and property. We ask your prayers for those suffering from the destruction. This issue of the newsletter shares three stories that stood out among the various doings of the Korean churches. In the next issue, we'll report on the outcomes of the general assemblies held by the various denominations this year.
Couple teaches history and faith through miniatures at two Paju museums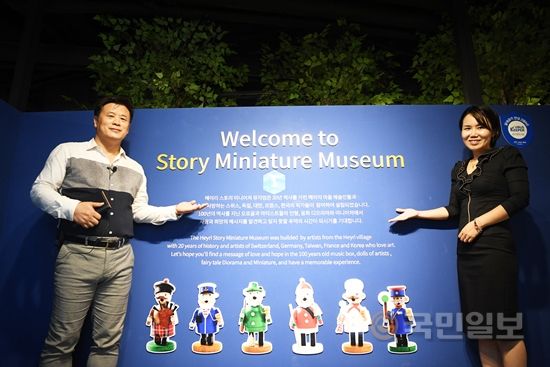 Director Cha Su-hyeon (on right, above photo) and her husband Yu Shin-hui operate two museums at Azidong Theme Park in Paju, Gyeonggi-do, where they are carrying out ministry for the next generation. The Story Miniature Museum, opened in October last year, displays 300 dolls, 5,000 miniatures and 90 music boxes. Visitors gazing at the tiny, exquisite recreations of Bible stories about the Creation of heaven and earth, the sanctity of marriage, the Parable of the Lost Sheep and other themes are reminded of God's providence and love.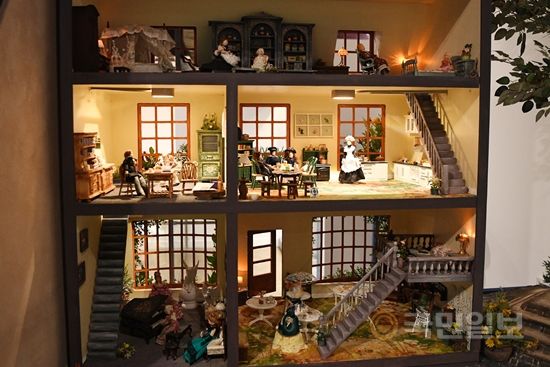 Their other project, the Korea Story Museum, was opened this past May to commemorate the centennial of the March 1 Independence Movement and the establishment of the Korean Provisional Government in 1919. This museum consists of different exhibition halls focusing on Korean traditional stories, the Japanese colonial occupation era, persons who sacrificed their lives for Korea, war and peace. In the Japanese occupation hall, a diorama titled "The March 1 Mansei Movement" (photo below), with 90 some figures sculpted in diverse detail, shows our ancestors as they ran through the streets resolutely shouting for national independence. This precise replication of an important historical event gives viewers a moving emotional connection to the Korean experience 100 years ago.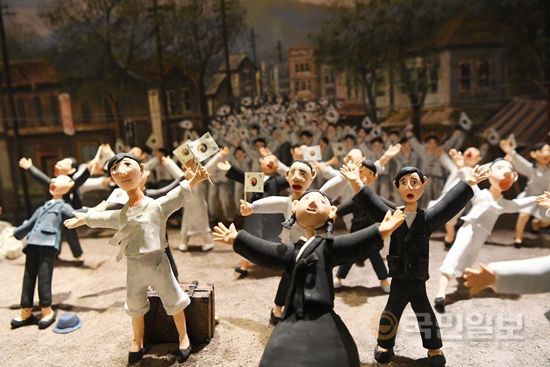 Director Cha said, "I made each figure separately, asking, 'What were the feelings of this particular person as he/she ran with the flag on March 1?'" As I wept and prayed during my work, God comforted me: "I created you, too, as a precious being." The couple have used their museum profits to build a school in Uganda, Africa, and have helped their employees with needed medical costs. Asked her thoughts on "true patriotism in these times," Director Cha replied, "Isn't it to remember the love of Jesus Christ, who bore the cross for us, and to serve our neighbors and the next generation in our own contexts?"
A view of North Korean church worship: Ojakyo News Choi Jae-young TV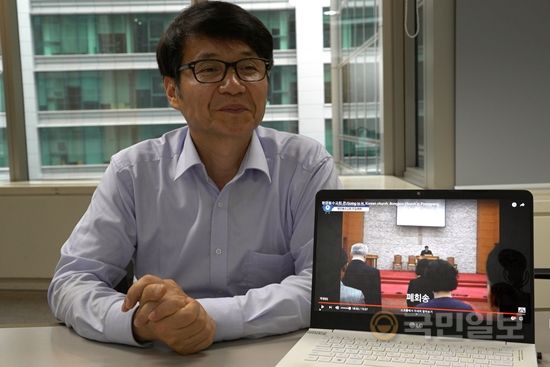 Korean American Pastor Choi Jae-young (photo) has released on his YouTube channel "Ojakyo News Choi Jae-young TV," a 19-minute video of excerpts from a worship service he taped in September 2012 at Bongsu Church in Pyongyang. Rev. Choi, recently interviewed by Kukmin Daily Building, has made frequent trips to North Korea as an invitee to various Christian public events, but since the 2017 U.S. government ban on travel there, his visits are blocked. The video reveals the actual appearance of the North's official church, which belongs to the Korean Christian Federation (KCF). Watching it, one might think the worship service, attended by a congregation of 70 some Northern residents, was taking place at a South Korean church, the similarity is so great. One difference is the singing of nearly 10 hymns during the service.
Construction of Bongsu Church, with help from the Southern churches, was completed in 1988; and since then the church has given a weekly welcome to Pyongyang residents and foreign diplomats stationed in Pyongyang. Some former North Korean residents have maintained that ordinary residents cannot attend the official church, and that there are underground churches where people meet secretly. In response, Rev. Choi pointed out that "Even though the North Korean authorities do not encourage religion, Pyongyang Theological Seminary is sending out graduates every year, and official family churches in North Korea now number more than 500."
Assault on Myanmar church worker points to need for "atmosphere of life together"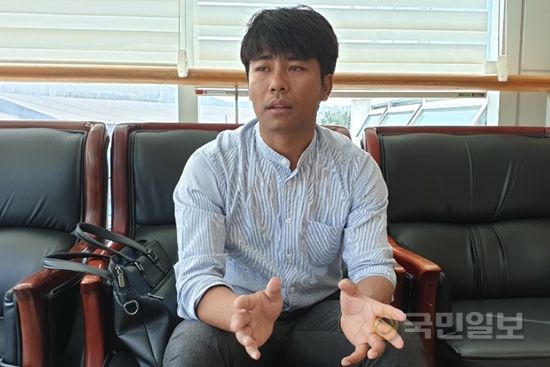 "I was beaten up simply because I am a foreigner. I have never been treated like this by anyone, even in my home country of Myanmar… Such a terrible happening must not be repeated." Pat Seung (photo), mission worker in charge of the Myanmar Worship Community at Juan Presbyterian Church, spoke with difficulty about the painful experience. This October 5, he was violently attacked in an alley of Bupyeong-gu, Incheon, by a Korean man in his fifties shouting, "Foreigners are here illegally! Get out, now!" Face covered in blood, Pat Seung went to a nearby hospital where he was treated for cuts on his head, and he is still receiving follow-up treatment. Bupyeong Police Station issued an arrest warrant for the attacker on suspicion of violence, but he is being investigated without detention.
All of Pat Seung's family are Christian, an unusual background in Myanmar. Two of his elder brothers are clergy and his younger sister is the wife of a pastor. His father, a police administrator, raised his children with faith as the core value. Pat Seung's Korean life began in October 2010, when he entered the master's degree program at Daejeon Theological University. Currently, besides his church ministry, he is majoring in missiology as a doctoral student at Juan International University in Incheon. "Most members of the Myanmar Worship Community are young people in their twenties, and they are deeply shocked by the violent attack on a church worker," he said. "I am doing healing ministry with them." He called for strong punishment of the attacker, and said, "We need to create an atmosphere of shared life for Koreans and foreigners together."
박여라 영문에디터 yap@kmib.co.kr