Kukmin Daily Newsletter
Issue 14
October 29, 2019
Seoul, Korea
Greetings from Seoul!
In this newsletter we report on a number of the issues that were taken up by major Korean church denominations at their general assemblies this fall. Many of these issues have been topics of concern for the past several years. One of them, the father-son succession to the head pastorship of Myungsung Church, brought widespread public attention as well.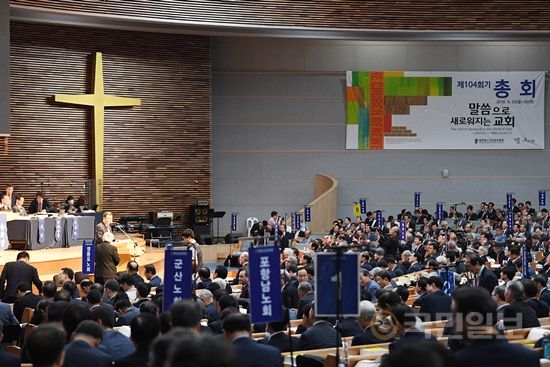 Restoring legitimacy and holiness
This year's general assemblies of major Korean church denominations were marked by extensive discussions of proposed constitutional revisions aimed at restoring theological legitimacy and holiness at both individual and organizational levels. Particularly striking were petitions calling for investigation into the possibly heretical character of the Christian Council of Korea (CCK, 한기총) and its executive director Jeon Gwang-hun, who has incited controversy with his hard-line pronouncements and "impeach Moon Jae-in" movement. Two denominations, the Presbyterian Church of Korea (PCK) Kosin (Rev. Shin Su-in, moderator) and PCK Hapdong (Rev. Kim Jong-jun, moderator), have sent such proposals to their heresy policy committees for study. On the other hand, PCK Hapshin (Rev. Moon Su-seok, moderator) dismissed a petition calling for Jeon's designation as a supporter of heresy, based on the political background of his remarks.
On the LGBTQ issue, PCK Tonghap decided to add an enforcement regulation to its constitution, and to study the idea of forming a "genderism policy committee" to thoroughly examine all aspects of the issue. "We oppose unilateral decision-making by the government on policies related to homosexuality and gay marriage," the denomination said in a declaration on the national situation. PCK Kosin decided to issue a similar declaration, related to the National Action Plan for the Protection and Promotion of Human Rights (NAP), and to Students' Rights Ordinances. PCK Hapdong is planning to petition the National Assembly for penalties on LGBTQ persons, their supporters, and participants in queer events, and for removal of references to "gender preference" and "religious discrimination" in article 2 clause 3 of the National Human Rights Commission Act. It also plans to develop Sunday school curricula that discourage approval or legitimization of homosexuality. PCK Tonghap decided to publish and supply textbooks on homosexuality for all age groups by the end of this year.
Allowing second jobs, extending retirement age
Two questions dealt with by assembly delegates this year were "second jobs" and "retirement age." The idea of allowing a pastor to hold a second job has been debated in successive years at the annual assemblies of Korean church denominations, due to the obvious gap between the nature of ministry and the economic reality. At their assemblies this September, PCK Hapshin, PCK Hapdong and PCK Kosin, all of which have stayed within conservative theological boundaries, took up the issue but could not make noticeable progress.
The growing trend now is to lengthen the retirement age of pastors and elders. PCK Baekseok (Rev. Jang Jong-hyeon, moderator) extended its pastors' retirement age by five years, from 70 to 75. PCK Hapdong, having postponed action for years, is forming its very first research team on the matter. Its assembly delegates agreed on the need to "prepare alternatives for farming and fishing areas and remote islands, where ministries have been interrupted, and to get in step with the 'age 100' era." But there also was a counter proposal to move the retirement age back by two years, from 70 to 68. Considering that the mandatory retirement age at ordinary workplaces is 60, and that jobs must be made available to young ministers, the churches will certainly be giving further thought to the issue.
Guidelines to prevent sexual violence in the church
One significant outcome of this year's assemblies was their response to the problem of sexual violence within the churches. The Presbyterian Church in the Republic of Korea (PROK; Rev. Yuk Sun-jong, moderator) made progress toward "enactment of a special law on sexual violence within the church," which was dismissed when it was proposed two years ago. The gender equality committee distributed to all assembly delegates a 60-page booklet of "guidelines on preventing and dealing with sexual violence." PCK Tonghap (Rev. Kim Tae-yeong, moderator) also adopted a set of "guidelines on responding to sexual violence in the church." On the contrary, PCK Hapdong rejected for the eighth consecutive year a proposal to legislate "ethical principles for pastors." This denomination, which still does not ordain women, postponed action for one more year on a proposal that women be allowed to take the evangelist/preacher qualifying exam, saying that the matter needs further study.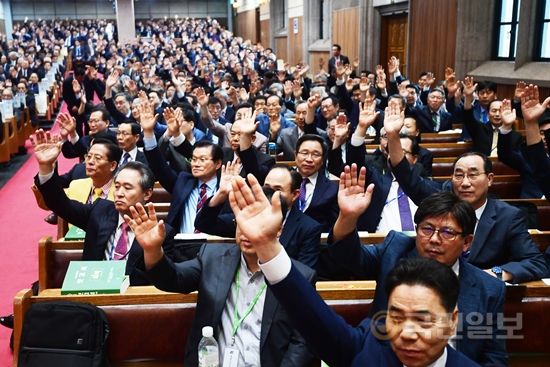 PCK Tonghap temporarily blocks Myungsung father-son succession
A resolution on the pastoral succession issue at Myungsung Church was approved by the PCK Tonghap general assembly with the support of 920 of the 1,204 delegates present. The main points of the resolution consisted of: 1) Myungsung Church's acceptance of the trials department's decision, and invalidation of the church's call to Rev. Kim Ha-na; 2) restoration of Rev. Kim Su-won to his post as chair of Southeast Seoul Presbytery, from which he was expelled in 2017 for refusing to approve the church's call to Rev. Kim Ha-na (following which he set up an emergency countermeasures committee); and 3) the possibility left open for Rev. Kim Ha-na to accept a new call from the church starting in 2021. The assembly also decided to spend one more year studying a proposal to remove or revise the PCK Tonghap constitution's ban on dynastic succession to the pastoral post.
PCK Hapdong will continue WEA exchanges
Following heated discussion, PCK Hapdong decided to maintain its exchange relationship with the World Evangelical Alliance (WEA). On the 24th, the denomination's theology department announced the results of last term's research by five professors of Chongshin Theological Seminary, reporting, "We could not find significant points of difference between the theological stances of PCK Hapdong and WEA." This led to a fierce debate between assembly delegates of opposite opinions. One side declared, "If we remain close to the WEA, which accepts tolerance and is walking the same road as the World Council of Churches (WCC), there is great danger that the evangelical faith will deteriorate." The other side asserted, "This is a misunderstanding caused by wrong information about the WEA-WCC relationship. PCK Hapdong, as the biggest denomination in Korea, needs to exert big international influence, so we must not become isolationist." An electronic vote was conducted, showing that 537 delegates agreed with the theology department research report and 448 disagreed; thus it was decided not to sever relations with the WEA.
박여라 영문에디터 yap@kmib.co.kr