Kukmin Daily Newsletter
Issue 15
November 17, 2019
Seoul, Korea
Greetings!
In this issue, we report on a 50-year Korean-German mission friendship turned global; and on the challenging work of caring for multi-drug-resistant TB patients in North Korea. We also share the results of a survey on Korean Christian political preferences, and some statistics on women's participation in this fall's general assemblies. We wish our readers well, at this time when many are preparing for a new season.
Korean and German Churches: A Half Century of Shared Mission
A joint assembly of Evangelical Mission in Solidarity (EMS), Presbyterian Church in the Republic of Korea (PROK), and Presbyterian Church of Korea (PCK Tonghap) was held on October 28, confirming their friendship of nearly half a century.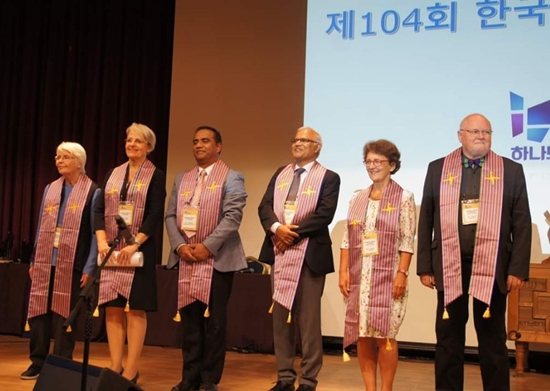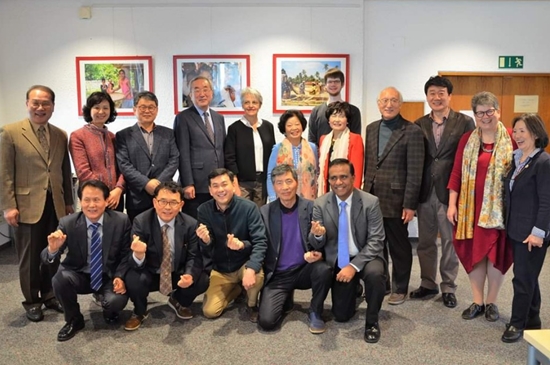 EMS's original name was "Evangelical Mission Work in Southwest Germany." In 2012, responding to requests by Third World churches, EMS adopted its present name and transformed into a global mission organization whose board includes representatives of the world churches. PROK and PCK Tonghap, which prior to that had simply taken part in exchanges with EMS, began sending directors to serve on its board. So did the United Church of Christ in Japan, the Churches of South India and North India, and others. Starting with the German and European churches, the board how has 39 member churches from around the world. EMS has supported various Korean church projects such as building construction, has encouraged their ordination of women, and has published statements in support of Korea's democratization process. EMS and the Korean churches together operate an ongoing youth volunteer program.
PROK has had an exchange relationship with EMS since 1974, when they drew up a blueprint for cooperation at their Stuttgart conference. That year Park Jong-wha, now pastor emeritus of Kyungdong Church, became the first Korean cooperative minister to be dispatched to EMS. Five years later, in 1979, PCK Tonghap began exchanges with EMS, sending Park Chang-bin (later the vice president of World Vision) to a church in the Pfalz region. Cooperative ministers sent to EMS focused on ministries with Korean residents of Germany. Between 2005 and 2015, the PCK Tonghap General Assembly worked together with the churches of North and South India in building 650 Dalit churches nationwide.
"North Korea's TB problem is not something to just watch from across the river"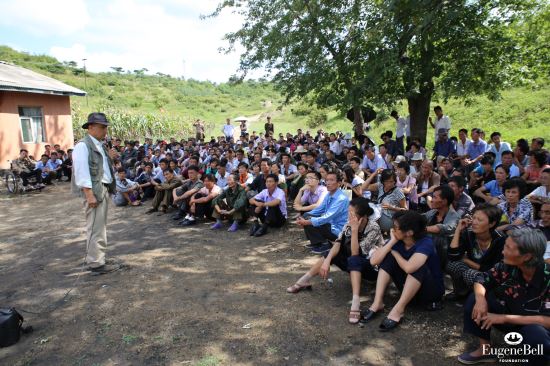 On October 17, the Eugene Bell Foundation (Stephen Linton, president) issued a report on its activities during a visit to North Korea from September 2~24, and on the prevalence of tuberculosis there. During the visit, about 700 patients registered newly with the Foundation's multi-drug-resistant TB program. More than 1,800 persons currently receive treatment through the program. The Foundation placed 21 "Jin Experts" (portable diagnostic equipment used to identify multi-drug-resistant TB) in Pyongyang, Kaesong and Nampo cities, and in North and South Pyongan provinces and North and South Hwanghae provinces. 130,000 cases of TB are discovered each year in North Korea, and 16,000 persons die of the disease annually.
"North Korea's TB problem is not something to just stand and watch from the other side of the river," President Linton said. "Despite the many political changes this year, no action has been taken toward North Korea from the humanitarian standpoint (such as family reunions or food assistance). The North Korean people are racing (to build a better life). Will South Korean society maintain a spectator role, or will it join the North Korean people's race for life together? Only South Korean society can feel and act on this responsibility."
Korean Protestant political leanings: 32% progressive, 21% conservative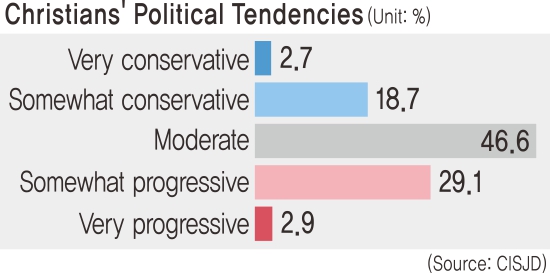 A "Statistical Analysis of a Survey of Protestant Perceptions on Key Issues in 2019" was announced on October 31 by the Christian Institute for the Study of Justice and Development (CISJD; Rev. Kim Young-ju, director), along with Christian Academy (Rev. Chae Su-il, board chair) and Christian Literature Society (Rev. Suh Jin-han, president). The survey, done at the request of the three organizations, was conducted this past July by Ji&Com Research (Ji Yong-geun, president) through an online survey of 1,000 Protestants and 1,000 non-Protestants aged 20 or older. The results had a significance level of 95% and an error range of ±3.1%.
The survey found that 79.5% of clergy and church members nationwide are against Protestant participation in politics. Those calling themselves "conservative" make up 21.4% of the total, 46.6% are "moderate," and 32.1% are "progressive." On the question of whether to establish a Protestant Christian political party for direct political participation, 49.9% of respondents replied "actively opposed" and 29.7% "opposed." Those in their fifties showed the highest rate of opposition.
Women delegates at this year's general assemblies: Same or fewer in number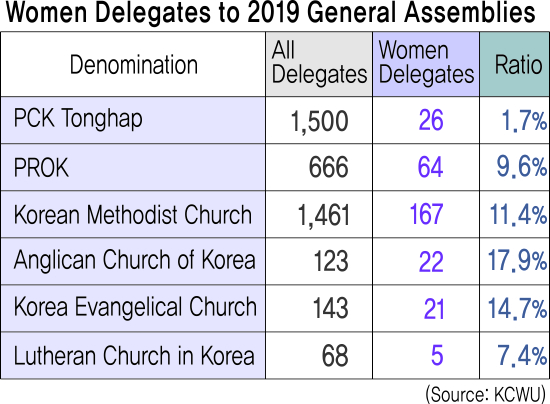 Korea Church Women United has announced a "2019 Church Women's Proposal for Korean Church Reform and Growth," demanding truly just reform that puts an end to discrimination and exclusion in the Korean church. KCWU reported on the situation of women delegates at this year's denominational assemblies, and called upon the Korean churches to actively prevent sexual violence and provide care for victims within the churches, and to play a central role for gender equality and women's rights.
The 104th General Assembly of the Presbyterian Church of Korea (PCK Tonghap) made history by electing its very first woman vice moderator, but the significance of this event was eroded by the fact that the number of women delegates sent to the assembly this year was down from last year's 2.1%, to just 1.7% of all delegates this year. Women's representation at other major denominational assemblies showed a similar trend, dropping or staying the same.
박여라 영문에디터 yap@kmib.co.kr