Kukmin Daily Newsletter
Issue 19
January 20, 2020
Seoul, Korea
Happy New Year!
Our first newsletter for the year 2020 reports on last year's top10 Korean church news. These short items cover a wide range of issues, including some not dealt with in previous newsletters. Our wish for all our readers is that the new year will bring you new hope.
March 1 Movement Centennial re-illuminated role of Korean churches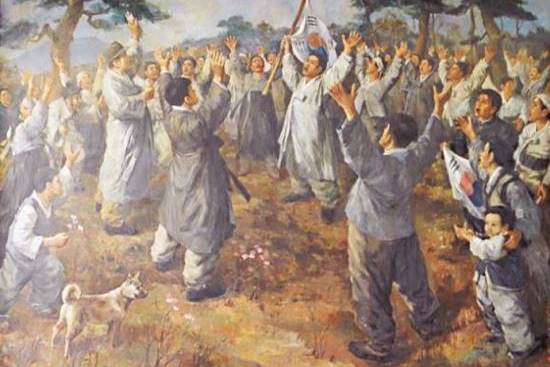 2019 was the centennial of the March 1 Independence Movement and the founding of the Provisional Government of the Republic of Korea. Although the Christian population at the time was less than 2%, 16 of the 33 national representatives were Christian, and Christians around the country rose up against Japanese imperialism, shouting for freedom, equality and justice. The March 1 Movement was the occasion of Korea's rebirth into the modern age, and during the past 100 years, Protestant Christianity has become a major religion of the Korean people.
Ideological conflict spread to the churches
This year South Korea was caught up in division and conflict. People were divided over political, economic, social and many other issues. Conflict reached a peak with the appointment of Cho Kuk as Minister of Justice. During the 35 days up until his resignation, public opinion was fractured, with confrontations revealing ideological, political and generational differences. Some churches and believers rallied around Rev. Jeon Gwang-hun and gathered at Gwanghwamun Plaza to spew out messages of hate aimed at the current government. All was not well inside the churches, either, with political and ideological differences sparking conflicts between pastors and members, and among members.
Korea-Japan churches' bridge building for reconciliation
When Japan placed restrictions on exports to Korea this past July, Korea-Japan relations rapidly deteriorated. The churches of Korea and Japan prayed and sought reconciliation according to the Biblical mandate. Korean Christian organizations joined Japanese churches in Tokyo in a special prayer meeting on the situation, and Japanese Christian organizations announced that they will join forces with Korean churches to improve Japan-Korea relations. Korean missionaries in Japan have also served as civilian diplomats endeavoring to resolve the conflict.
PCK Tonghap allowed father-son pastoral succession at Myungsung Church
At its general assembly in September, the Presbyterian Church of Korea (PCK Tonghap) approved a measure dealing with the controversy over Myungsung Church's father-son pastoral succession issue. In summary, the measure requires Myungsung Church to accept the authority of the general assembly suspending Rev. Kim Ha-na's ministry there including preaching and administration, and normalizing the Southeast Seoul Presbytery, while leaving open the possibility for Rev. Kim to be recalled by the church from 2021. Some PCK Tonghap churches issued a critical statement saying the general assembly decision had transcended legal boundaries.
Church circles disputed court's "unconstitutional" ruling on abortion law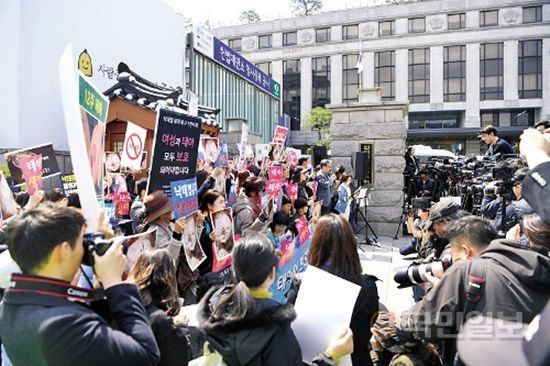 Last April the Constitutional Court found South Korea's abortion law unconstitutional. Church circles disputed the decision, calling it anti-life, contrary to God's divine providence of Creation, and effectively justifying fetus murder. Church organizations are demanding that when an alternative abortion law is made, by December 2020, it should establish a consideration period, a counseling system, and stricter limits on reasons for abortion.
Spread of anti-LGBTQ movement… Promotion of legal amendment
Forty-four members of the National Assembly including Ahn Sang-soo (Grand National Party) proposed an "amendment to the National Human Rights Commission Act" that would remove the words "sexual orientation (性的志向)," meaning homosexual or third gender (性), and would limit gender to male and female. Organizations including Citizens Association for Healthy Gyeonggi-do are waging a movement to abolish Gyeonggi Province's gender equality ordinance. The Citizens Association Against Homosexuality and Gay Marriage announced a list of 12 National Assembly members including Justice Party Leader Sim Sang-jung, who they said have led actions in support of homosexuality.
Korean missionaries expelled from China and India
China, India and other countries continued to expel Korean missionaries. The Chinese government reportedly views the rapid increase in Christians as a crisis. Family churches in China are being closed down, and foreign missionaries expelled in large numbers. In India also, under the hardline Hindu regime, Korean missionaries are undergoing hardship, with more than 500 having already left the country. Strategic new dispatch of missionaries is recognized as an urgent task.
With South-North relations frozen, churches appealed for peace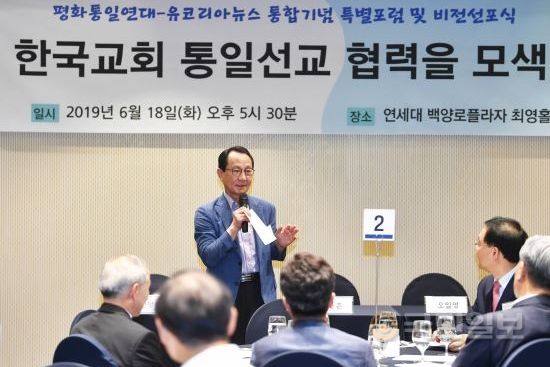 Upon the breakdown of the 2nd North Korea-United States summit in February, there was a freeze in relations not only between North Korea and the U.S., but between North and South Korea as well. Nor did any positive results come from the meeting in June of the leaders of South, North and the U.S. at Panmunjom, or from the North Korea-U.S. working group meeting in Stockholm this past October. Christians' prayers for peace, however, became more fervent. Denominations, churches and mission organizations held mission rallies, prayer meetings for peace and other events as they prepared for unification mission.
Pseudo-religious groups infiltrated churches and campuses
In 2019, pseudo-religious groups continued their penetration of local churches, campuses and overseas mission sites, taking advantage of weak points. Churches in Cheonnan, Pohang and other cities proactively countered the propaganda of Shincheonji Church of Jesus the Temple of the Tabernacle of the Testimony (Shincheonji), and other such groups. Pseudo-religious groups operating on campuses are causing problems through their use of opinion surveys, psychological counseling and TOEIC study to lure and confuse students.
SaRang Church reconciled after seven years of internal strife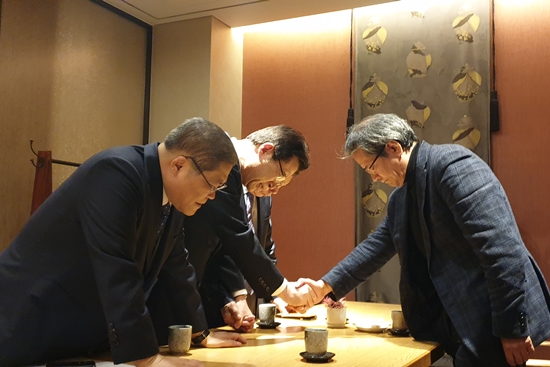 After more than seven years of conflict, characterized by mudslinging, lawsuits and mutual recrimination, on December 23, just before Christmas, Seoul's SaRang Church (Rev. Oh Jung-hyun) and the church's committee for church renewal (Elder Kim Du-jong, representative) achieved a dramatic reconciliation. The clearly stated contents of the agreement memo, including withdrawal of all lawsuits, revoking of penalties on church members, and commitment to intercommunity cooperation, aroused expectations for a new start by the SaRang Church community.
박여라 영문에디터 yap@kmib.co.kr