Kukmin Daily Newsletter
Issue 20
February 4, 2020
Seoul, Korea
Greetings!
We share in this issue of our newsletter a statistical overview of Korean missionaries around the world and at home, based on recent research. New trends can be seen, resulting from significant changes in mission fields. At publication time, the world is on alert over the outbreak of the new coronavirus. We pray to God for wisdom and courage to meet this challenge, to hold the virus in check and to heal those who are ill.
28,000 Korean missionaries abroad: New mission strategies for migrants in Korea
On January 14, the Korea World Mission Association (KWMA) reported on the situation of missionary deployments overseas in 2019. At year's end, Korean missionaries, dispatched by mission departments of 273 church denominations and mission organizations to 171 countries, numbered more than 28,000 worldwide. (See charts.)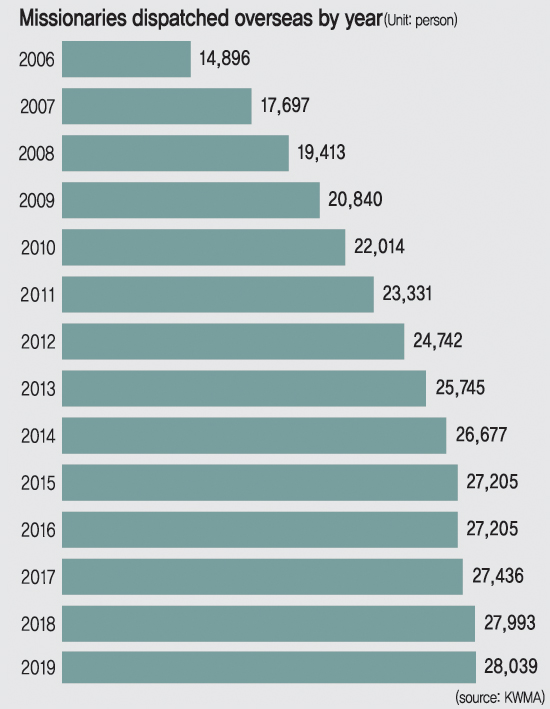 Though the number of missionaries has risen, the amount of the rise is less than it was five years ago. The Christian population in Korea has also decreased, but the missionary reduction seems to be the result of readjustment of the related statistics. According to KWMA, "The trend of increase has continued, but has slowed since 2016 from the earlier 500~1,000 annual rise." A Rev. B explained, "In the past, most dispatches were made by agencies independently, but following the 2008 global economic crisis, many organizations changed to a cooperative method, dividing up support… In this process, many missionaries were listed two, three or four times in the statistics."
Among the missionaries who responded to the KWMA survey, 14,526 (giving multiple responses) said their core ministry was to establish churches. KWMA attributed this to the pastoral background of many missionaries. According to the special characteristics of the multiple ministries led by Korean missionaries, the survey also revealed many cases of "mission training and mobilization," "welfare and development" and "campus mission."
The category of "children," added since 2018, showed close to 7,000 missionary children 20 years of age or older. Most missionary kids have grown up in a multicultural environment, giving them a command of several languages.
One striking piece of data is that 45% of Korean missionaries are sent by denominations. Also worth noting is the increased number of missionaries ministering inside Korea; compared with 1,481 the previous year, in 2018 there were 1,631, an increase of 150.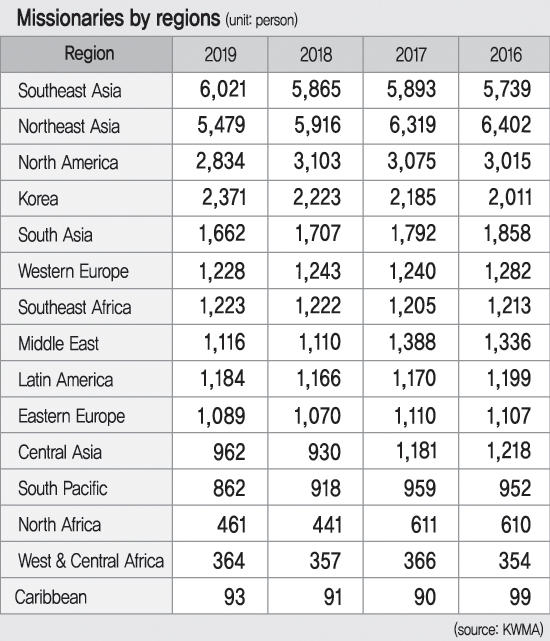 First of all, some countries have revised policies based on their national interest, making it hard for missionaries to get visas for the purpose of religious or economic activity. In some cases missionary activity is suppressed altogether. A representative case is the religious policy of country A in Northeast Asia, where mission cannot be done freely these days. More Korean missionaries have been sent to country A than to any other country.
Some missionaries have voluntarily chosen to work in Korea. They have recognized Korea as a new mission field, due to its increasing numbers of multicultural families and refugees. Experts have taken note of this dimension.
Sungkyul University Prof. Ku Seong-mo (Missiology) explained, "2.4 million people in our country belong to migrant families, and there is now the view that they should be contacted as part of mission strategy." He mentioned examples of Korean ministers serving Korean churches in the U.S. and other countries. "It is efficacious to train migrants as ministers who can serve other migrants from the same country… After returning to their own countries, they can work cooperatively with Korean missionaries there, for greater synergy."
Julius Kim chosen to head white evangelical coalition in U.S.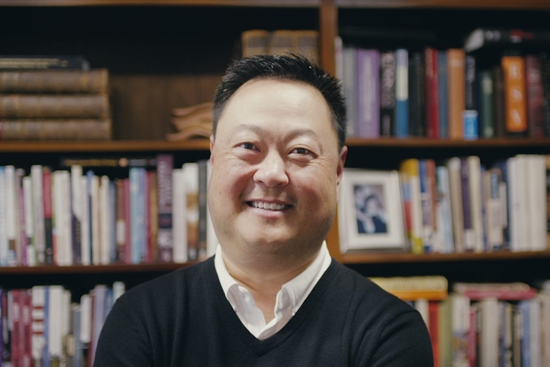 The Gospel Coalition (TGC), an evangelical organization in the U.S., announced on January 20 (local time) that Prof. Julius Kim (photo) of Westminster Seminary California has been appointed its new president. It is the first time for a professor of Korean origin to be named president of an evangelical organization consisting mainly of prominent white theologians and pastors. "I am deeply thankful to the TGC board of directors for giving me this privilege of serving Jesus Christ," new President Kim said. "I pray for the Lord's abundant blessings on the TGC ministry." Commenting on the decision, TGC Board Chairperson Kevin DeYoung said, "As a person who is not afraid to offer values and new ideas for the future, Julius Kim is the right man to lead global TGC's dynamic ministry."
박여라 영문에디터 yap@kmib.co.kr