Kukmin Daily Newsletter
Issue 21
February 17, 2020
Seoul, Korea
Greetings!
Revisiting history always helps us learn more about how we've come to where we are. In this issue we relate a story from early Korean Christianity proving that the church's cornerstone was laid in social reform and that its ecumenical activities started in those days. Another story reports on "missionary houses" for overseas Korean missionaries who are back on temporary visits. We ask our readers to stay in the circle of prayers for those suffering from the Corona 19 virus, and for those who are working day and night to fight the new disease.
NCCK's "Christian Social Movement History": Ecumenical unity from 1918
Ahead of its centennial anniversary in 2024, the National Council of Churches in Korea (NCCK) has published "Korean Christian Social Movement History Volume 1 (1918~1937)," the first of a planned 20 volumes of collected materials to come out over the next five years. The collection reveals the process of Korean pastors' move to the forefront of the Korean church 100 some years ago, having previously served as assistants to the foreign missionaries. The materials show that in the 1930s, while opposing historical materialism and class struggle, the pastors looked to the construction of a new democracy with such features as improved status for women and reduced working hours. NCCK General Secretary Lee Hong-jung commented, "(The materials) show that Protestant Christianity is a participatory religion aimed at building God's kingdom of justice and peace in our daily lives."
Looking at "Korean Christian Social Movement History Volume 1 - Proceedings of the Christian Ecumenical Council Before Liberation," we find that in 1918, Korean pastors of the Chosun Jesus Presbyterian Church and the Methodist Church held a joint conference in Kyungsung (present-day Seoul), where they transcended denominational boundaries to establish the first council for mission cooperation and unity. The minutes of the conference, written in a mixture of Korean and Chinese letters, include this founding purpose (translated in modern parlance):
"Our two churches sincerely seek to further the spirit of unity in Jesus Christ, in justice and friendship. In the event that our churches face tasks that are difficult to manage alone, we will endeavor to cooperate in carrying them out. We will share ministerial experiences and knowledge with one another to expand the work of Christ."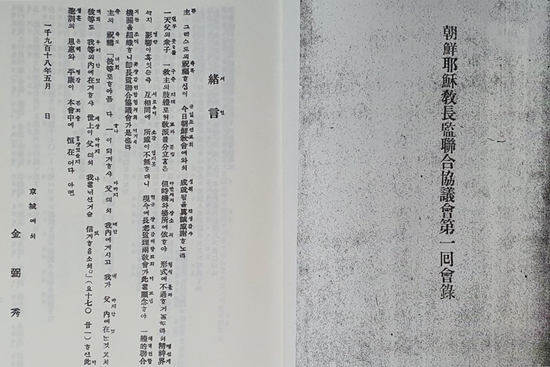 Researcher Hong Seung-pyo, a member of the NCCK Centennial Memorial Committee, and the person in charge of research for this collection, said, "There is great historical significance in the fact that Korean leaders went beyond the dimension of the existing missionary-centered councils and themselves became the center, organizing the first Protestant church council of these two Reformed churches."
The Presbyterian-Methodist Ecumenical Council decided to dissolve in 1923, and was reborn the following year as the National Christian Council in Korea (KNCC). When it held its founding meeting in September 1924 at Saemoonan Church, not just the Presbyterian and Methodist churches but also the British and Foreign Bible Society, the Chosun Young Men's Christian Association (YMCA) and others participated. In 1931, the Council expanded its organization and took as its goals the propagation of the Gospel, elevation of social ethics, and the dissemination of Christian culture. The identity of NCCK today originated in the early churches' ecumenical movement for unity.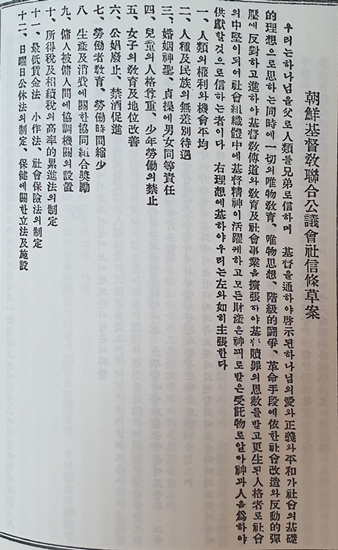 At its 9th meeting in 1932, KNCC announced a "social creed." "We believe in God as our Father and all humanity as our brothers, and consider the love, justice and peace revealed by God through Christ as the basic ideal of society, while opposing any social reorganization or reactionary oppression based on materialist ideas or education, class struggle or other revolutionary means," it said. It presented the following goals; equal rights and opportunities, prohibition of child labor, improvement of women's status, abolition of state-run prostitution, promotion of temperance, reduction of working hours, promotion of cooperatives, legislation of income and inheritance taxes, a progressive taxation system, a minimum wage law, legislation on tenant farming, a social insurance system, guarantee of Sunday as a public holiday, and the establishment of public health laws and facilities.
"Following the March First Movement, as the churches saw the inflow of liberalism, socialism, etc., this was their answer, for the practice of social responsibility," Hong said. "They wanted to put into concrete practice these social reforms, grounded in the Christian spirit."
Previous NCCK publications include "The 30-year History of the Korean Church Human Rights Movement" (2005), "Protestant Christianity Is Alive in Korea" (2013), and "A 30-year History of Protestant Christian Women's Movement" (2014). General Secretary Lee said, "(The new collection) is a work of self-reflection on our historical footsteps in response to the question 'What role has Korean Protestantism carried out in society, and by what methods?'… Every action taken by devoted Protestant Christians for social development and promotion of human rights should be recognized by today's Korean churches as their legacy of faith."
Methodist Wesley House, a refuge for temporarily returned missionaries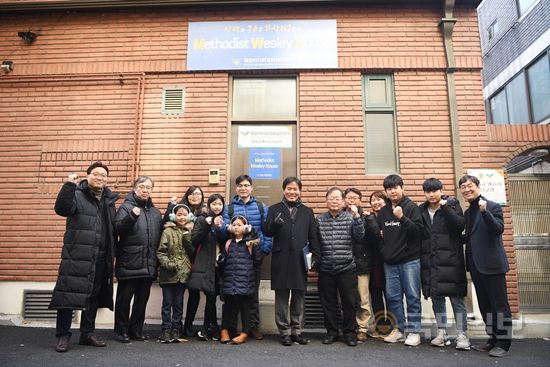 "Missionary friends, there are always empty rooms. Please use them, and spread the word."
Rev. Cho Jeong-jin, executive director of Wesley Headquarters for the Practice of Social
Holiness, issued this invitation to the missionaries gathered for worship last month at Methodist Wesley House in Shillim-dong, Gwanak-gu, Seoul.
The House is a nest for missionaries on short-term return from overseas mission fields. It was established by clergy of the Korean Methodist Church, but is open for use by any missionary of a legitimate church, regardless of denomination. Many families have stayed here. Recently the House also started a car-lending service. It's a community economy. Methodist Wesley House may be used for as long as one wishes. All services are free.
"It became known that missionaries had no place to stay when they came back temporarily to attend to family matters or to extend visas," Rev. Cho said. "We heard about their difficult situation and decided to prepare a missionary house." He explained, "After we set up the plan, someone offered to lend a house, and others gave financial support. It's a worthwhile operation, despite occasional problems."
The Shillim-dong missionary house is the eighth one established by the Social Holiness headquarters. Starting with the Dangsan-dong house in Yeongdeungpo-gu, Seoul, which opened in 2017, there are now nine, including one in Seosan city, South Chungcheong Province, and one in Suwon city, Gyeonggi Province. Up through last year, 503 missionaries serving in 49 countries had sojourned in these houses. Their stays added up to a total 4,016 days. The average stay per missionary was eight days.
The missionary house was inspired by the work of People Sharing Life (Inc.), which is registered with the Ministry of Health and Welfare as an organ-donating agency. Rev. Cho is also the executive director of People Sharing Life. Rev. Lee Sang-yun, director of Methodist Wesley House, said, "Wesley House is the extension of life-saving ministry to missionary welfare… We also plan to offer medical services, and to provide programs for children of missionaries and pastors." He appealed for prayers and concern, saying, "Operating the houses free of charge, we urgently need the churches' warm support."
박여라 영문에디터 yap@kmib.co.kr