Kukmin Daily Newsletter
Issue 26
April 27, 2020
Seoul, Korea
Greetings!
This issue of our newsletter reports about an online meeting of Korean pastors to share how their online worship services are going, and discuss how to prepare for the post-coronavirus era. It also introduces two new Christian members of the National Assembly, who were chosen by voters in the general election this April 15. These days, as people around the world face and deal with the challenge of COVID-19, it feels as if we have all become closer. We pray that our sisters and brothers in the faith may stay healthy and strong.
Online pastors' discussion amid CV-19 woes: "Church worship is important for spirituality"
Due to the spread of the new coronavirus (COVID-19) disease, most Korean church congregations cannot meet on Sundays. People's gatherings for worship, including Easter, have been effectively suspended for the past two months. This situation brought 40 some leading pastors together for an online meeting to share anxieties and worries, and to reflect again on the meaning of worship.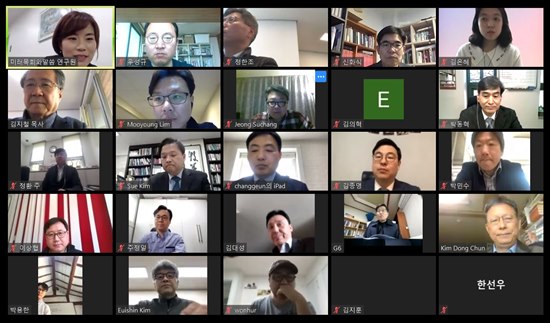 Participants in the video discussion, held on April 16 by Mimokwon (Research Center on Future Ministry and the Word) and titled "Corona-19, Korean Church and Worship," exchanged opinions via the Zoom meeting platform. They agreed that "The church, dispersing for mission, is made possible by the church that meets dynamically... When worship gatherings are restored, we should emphasize liturgy and find ways to promote deep spiritual experience."
Rev. Park Yeong-ho of Pohang Cheil Church, the director of Mimokwon, gave a presentation titled 'Looking Again at the Meaning of Worship in the CV-19 Era.' "We must distinguish between the church that cannot meet physically and the church that is dispersed in terms of mission," he said. "Whether or not the worship place is a church hall is not important; the problem is that now we cannot gather at all."
Rev. Park noted, "The church is possible because it meets dynamically while dispersing for mission, and worship is at its center… Worship is the core of God's salvation to restore the world." He warned against oversimplifying the concept of "life as worship," which could lead to neglect of worship, and recalled the Apostle Paul's letters expressing great longing for the worship community. Therefore, he asserted, when the principle of the holy Sabbath has been restored, we should be prepared to emphasize the importance of worship even more.
Kim Dong-chun, full-time researcher at the Nehemiah Institute for Christian Studies, commented, "The limits of video worship are clear. There are many impediments to communicating the sanctity of an encounter with God… After CV-19 it will be very important to bring to light the significance of on-site worship." He said that according to the Reformation tradition of Martin Luther and John Calvin, the Protestant Church has emphasized proclamation of the Word over style of worship, but in future we should pay special attention to spatial division bestowing spirituality, and to liturgical form.
Rev. Song Yong-won of Grace and Gifts Church in Seoul predicted, "In the post CV-19 era, pastors' devoutness, spiritual life and character will be highlighted even more… I've read in a critical biography of Rev. Han Kyung-Chik that, more than the wish to hear his sermons, it was the desire to look at him directly and feel his spirituality that made people flock to Youngnak Church."
Rev. Jeong Han-jo of Seoul's 100th Anniversary Memorial Church said, "Our big assignment is to restore affection and friendship when our gatherings start again… Today's discussion was an exchange of thoughts with outstanding discernment."
Two new Christian members of the National Assembly pledge justice and love
The April 15 elections are over. We listened to the pledges of two Christians newly elected to the National Assembly.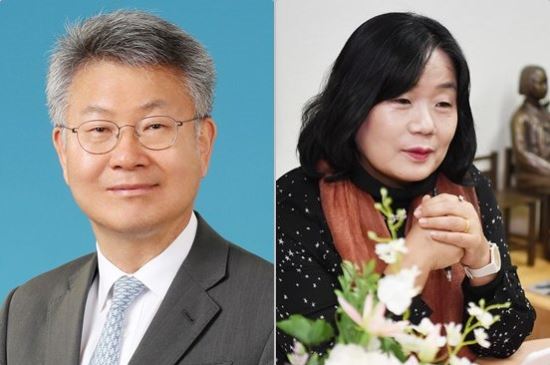 Kim Hoe-jae (Democratic Party, Yeosu Eul district, left in photo) said on April 16, "Today, the day I received the certificate of election, is the sixth anniversary of the Sewol Ferry disaster. At the time of that incident, I anxiously wondered, 'What is a true country?' With this same perspective, I plan to carry out people-centered politics." New Representative Kim, an elder of SaRang Church, had finished his term as head of the Ansan branch of the Suwon District Prosecutor's Office in 2013, and moved the following year to the Institute of Justice, when he was faced with the Sewol incident. As a former resident of Ansan, he joined with Ansan church leaders actively supporting efforts to deal with the situation.
"The important thing was my co-workers. Like England's Wilberforce, who got slavery abolished, we need sincere co-workers. I believe that when people seeking the will of God join forces, practice our Lord's righteousness and love, and devote themselves to the people, we will open the way to a politics that gives hope." Rep. Kim lived the life of prosecutor for 27 years and 4 months, serving as prosecution branch head in Jecheon, Gunsan and Ansan, and as head of both the Gwangju District Prosecutor's Office and the Uijeongbu Prosecutor's Office. Following that, he established the legal foundation "Justice and Love."
"While campaigning for this election, I listened to the local people's requests, and many said politicians should stop fighting and use politics to save people's livelihoods," he said. "I want to actualize people-centered politics focusing on ordinary folks, not party or Assembly struggle."
Yun Mi-hyang (Democratic Party, proportional representative, right), a graduate of Hanshin University, worked for more than 30 years with the civil society organization Korean Council for Justice and Remembrance on the Issue of Military Sexual Slavery by Japan (Korean Council, or Jeongdaehyeop), a human rights movement devoted to resolving this issue with Japan. The Korean Council was created mainly by Korea Church Women United, known for its longstanding movement against prostitution tourism.
New Representative Yun, who formerly chaired the board of the Korean Council, said, "The grandmothers (former Japanese military slaves) were happy, and hugged me. This morning Grandmother Gil Won-ok said, 'If you can get an apology from the Japanese government, I will wish for nothing more.' I feel a great responsibility." She pledged, "I will carefully re-examine the limitations and fruits that I recognized while working with the Korean Council, and will definitely get the necessary law enacted by the Assembly. I will work with a humble mind to investigate and act in accord with my given role and calling."
박여라 영문에디터 yap@kmib.co.kr