July 13, 2021
Greetings from Seoul!
Here in Korea we're facing the largest wave of COVID-19 since it arrived back in January 2020, though the numbers may look small to countries that have gone through much harsher waves with bigger death tolls. Our vaccination rate is still 30%, with plans to raise it to 70% by the end of September, so this is a critical time for keeping our society in sound shape. The government has ordered the strongest countermeasures, from which churches are not exempt; they are under a two-week ban on offline gatherings. COVID-19 is an urgent issue at the moment, but we are also dealing with long-lasting, hard-to-solve issues. For example, as reported here, it is still very hard for women pastors to ask their churches for legally guaranteed childbirth leave. Now young women assistant pastors are moving to change this. Our second story involves a literal digging out of material, for a happy ending.
*This is our last issue due to unexpected circumstances. We sincerely apologize for abrupt
discontinuation of our English service.
"Please make a good church with a childbirth leave system"
The Theological Department Alumnae Association of the Graduate School of Theology at Presbyterian University and Theological Seminary (PUTS) recently sent out a letter to 500 of the denomination's churches, including Myungsung and Somang, proposing a "parental leave" system. This was part of the Alumnae Association's campaign, titled "A church with childbirth leave is a good church." On June 29, Alumnae Association president Ko Na-hyeon, a third-year graduate student in theology, explained the campaign: "The parental leave system exists legally, but some churches are not properly implementing it. The hope is that women will no longer be excluded from ministry in churches, and recognition will grow that what is good for women is also good for men."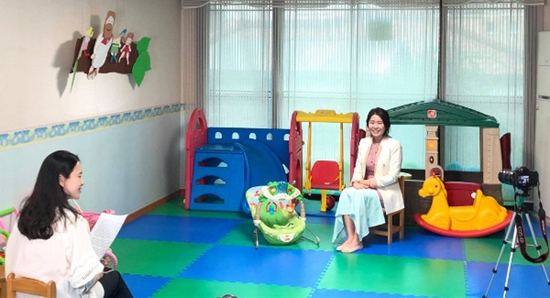 The letter to the churches contains stories of anonymous women assistant pastors who have had to quit ministry for childbirth and parenting. It proposes that a "women assistant pastors' ministry continuation system" for PUTS graduates be created within the church. The system would guarantee 90 days' paid childbirth leave for women ministers, and provide alternative ministry posts to seminary students needing experience, with scholarships paid for by the university.
The Alumnae Association uploaded a video on YouTube with interviews of three "working mom" assistant pastors now engaged in ministry at churches that provide parental leave. Rev. Lee Maria, who has two children, said, "At one point when I was having a hard time managing ministry on top of child care, I said I was going to quit, but my senior pastor encouraged me, saying, 'You'd better endure and keep working hard; in doing so you will inspire other women ministers' work.' Because the church doesn't make an issue of work efficiency, but creates an atmosphere allowing me to grow together with my children, I have become even more faithful to my ministry."
Rev. Lee Seon-ae, also a mother of two, said, "When you become a mother or a father, you see things you couldn't see before, and can understand people with a broader mind, which is a plus for ministry. If the church waits and supports you with the understanding that a good minister is in the making, it will be a big help to church ministry." Assistant pastor Yang Ji-hoe, who has one child, said, "I hope church communities will share the perspective that a pastor, too, is a parent who builds a family, and that serving in this way is also an important part of ministry."
Korean Revised Version Bible hidden in kimchi jar escaped fire during Korean War
It is now known that the manuscript of the 1952 version Korean Bible (photo), which was the basis for the officially recognized Korean Revised Version Bible used by the Korean churches since 1961, for 30 some years, was nearly lost during the Korean War. Amidst surveillance by the People's Army (from the north) and wartime bombings, the manuscript was preserved by persons connected with the Korean Bible Society (KBS) who had the wit to hide it in a kimchi jar.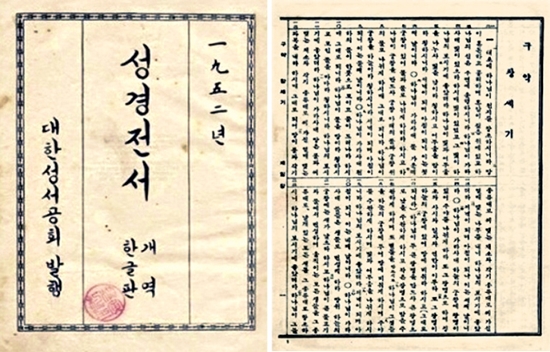 According to "Korean Bible Society History III," published last year, KBS started work in November 1949 to correct the 1938 Korean Revised Bible in conformity with the grammar of the Korean language. The task was to modernize expressions, change dialect to standard language, correct spacing between words, etc. The process was going smoothly, but was interrupted by the crisis of the Korean War. Revisions were finished in April 1950 and typesetting started, but with the invasion of the South by People's Army troops, the work could not continue.
People's Army soldiers swooped into the KBS office. Rev. Im Yeong-bin, then KBS general secretary, was dragged away to the People's Army security department. Luckily he was released after one day, but from then on KBS was under surveillance by People's Army troops.
Faced with this situation, Rev. Im had his wife and eldest son secretly take the corrected manuscript of the Korean Revised Bible and hide it at the home of relatives in the countryside. They stowed it in a kimchi jar.
Just before the recovery of Seoul on September 28, when People's Army violence had reached its height, the KBS building was burned down. KBS's many Bibles, printing paper and documents were all burned. Only the Korean Revised Bible manuscript escaped the fire.
After the recovery of Seoul, Rev. Im extricated the manuscript and kept it safe, following which it was taken to Busan, where it went through a second revision and was published in 1952 as the Korean Revised Version Bible. This 1952 version was the frame for the 1956 and 1961 versions.
Ok Seung-deuk, a professor of Korean Christianity studies at UCLA in the United States, who wrote the most recent KBS history, said on June 27, "Looking at the history of this manuscript's miraculous preservation and publication through God's special providence, I remember how our ancestors in the faith read God's word and found hope even in the midst of war."
박여라 영문에디터 yap@kmib.co.kr